Did you know that our lifeguard team dedicates up to 45 hours in training every year?
Our lifeguards are trained and licensed with Jeff Ellis & Associates – the leader in aquatic safety since 1983. E&A is the number one provider of cutting edge, innovative lifeguard training worldwide. Serving over 750 facilities in 29 countries, Ellis & Associates is built on one simple commitment – zero drownings.
Raging Waves Waterpark chooses to invest in the Ellis & Associates International Lifeguard Training Program to ensure that our lifeguard team is certified to the highest standard in comprehensive aquatics risk management.
Raging Waves is committed to providing clean, safe fun for everyone. Here's how our lifeguard team upholds this model:
Cleanliness
Raging Waves lifeguards learn the importance of utilizing Personal Protective Equipment as well as how to properly clean and sanitize biohazardous material to avoid disease transmission. Not only do our aquatics team members go through this extensive training, but they also participate in cleaning and decontaminating on a daily basis to ensure the cleanliness of the park for our guests.
Safety
Because of the comprehensive training our lifeguards go through, they are equipped to handle all aquatic and non-aquatic emergencies within their standard of care. The Raging Waves Lifeguard Team is trained in state-of-the-art rescue techniques as well as the following skills:
Health Care Provider level CPR
Artificial Respiration
Foreign Body Airway Obstruction
AED training
Emergency Oxygen Administration
First Aid
Our lifeguards go through extensive training to ensure your safety at Raging Waves Waterpark. Annual training consists of a full weekend training commitment in which lifeguards learn the skills needed to keep you and your family safe. Upon completing the prerequisite swim test, lifeguards must pass a practical skills test and a written exam to be licensed each year. But that's not all – each lifeguard participates in weekly in-service training during the operating season to ensure they maintain the highest level of skill performance.
FAQ
Q: "Why do the lifeguards move their heads when they are on stand?"
A: Great question! This is called scanning. What you see is our lifeguards maintaining the 10/20 Protection Standard. Lifeguards are trained to recognize a guest in distress within 10 seconds and begin rendering aid within 20 seconds. They are moving their head so they can make sure they see anyone who may be struggling within 10 seconds.
Q: "What is that manikin in the water?"
A: Say "Hello" to our friend Timmy! This is a manikin used by the aquatics team to test our lifeguard's awareness. This procedure is called Vigilance Awareness Training (VAT). Our aquatics management team places Timmy at the bottom of the pool to assess the lifeguard's ability to recognize him in their zone. You may even see a team member showing signs of distress in the wave pool to make sure the lifeguard on duty recognizes them within 10 seconds. Conducting routine VAT Drills helps keep our lifeguards performing at a rescue-ready level at all times.
Q: "How are lifeguards held accountable for keeping guests safe?"
A: Jeff Ellis & Associates conducts operational safety audits for each facility that trains their lifeguards using their program. Every year, E&A sends a National Staff Auditor to Raging Waves unannounced to assess our lifeguard team on their swimmer surveillance and rescue skills. Just as a bank has auditors that come count their money to make sure they are doing their job, lifeguards also receive regular audits by E&A Staff. The annual audit consists of the following:
Hidden camera lifeguard performance assessments
In-water rescue skills
Backboarding techniques
Spinal injury management
CPR
Rescue breathing
Supplemental emergency oxygen support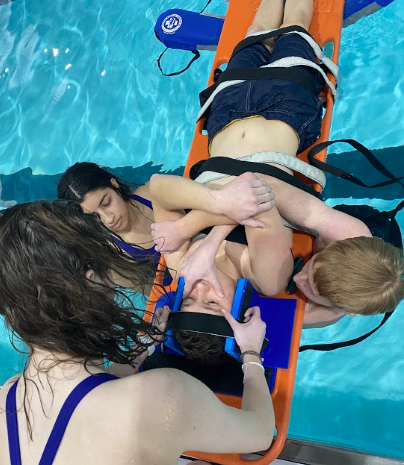 On top of evaluating our lifeguard's skill maintenance, the E&A National Staff Auditor confirms that all of our rescue equipment is working and up-to-date. The Raging Waves Lifeguard Team has continued to receive the highest score possible and exceeds the Ellis and Associates Standard every year.
Your Safety Is No. 1 at Raging Waves
At Raging Waves, we're committed to a clean, safe, and fun experience for everyone. Raging Waves lifeguards are trained to the highest standard to keep you and your family safe. They spend countless hours running drills and learning rescue techniques. You can rest assured knowing that our lifeguards are properly trained, rescue-ready, and looking out for your safety at all times at Raging Waves.
Tap or click here to start planning clean, safe, fun for your family this summer at Raging Waves.