More slides, more play features, and more FUN for the Lil' Mates. NOW OPEN for the 2018 season!

INTRODUCING QUOKKA-NUT ISLAND, A NEW, INTERACTIVE KIDDIE AREA LOCATED NEXT TO KOALA KOVE! THESE FUN AND EXCITING FEATURES WILL GIVE OUR LIL' MATES (UNDER 54″ TALL) THE CHANCE TO EXPLORE THE LAND OF THE QUOKKA!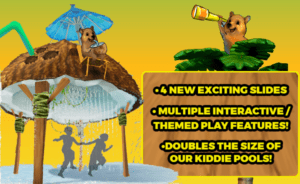 WHAT IS A QUOKKA?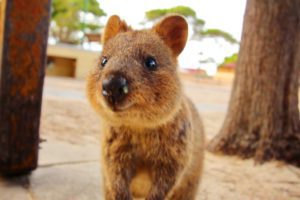 The island of Rottnest, right off the west coast of Australia, is home to the Quokka (rhymes with "mocha"). These small, teddy bear-sized marsupials are the smallest members of the macropod family, which also includes kangaroos and wallabies! The Quokka is covered with short, coarse brown fur, has small rounded ears, a black nose, and a rat-like tail. They are nocturnal herbivores, who hop like kangaroos, climb trees and eat leaves, stems, and bark from different types of plants! Female Quokkas can give birth to a baby, also called a joey, and the baby will live in its mother's pouch for the first six months of its life. Quokkas have also become a large tourist attraction on Rottnest Island! They are known to be the "World's Happiest Animal" due to their irresistible smiles and friendly personalities. More than 500,000 visitors a year will come to the island to try to get a "selfie" with these adorable animals. Because of the large number of visitors, Quokkas are not afraid to "hop" up to you for a quick picture!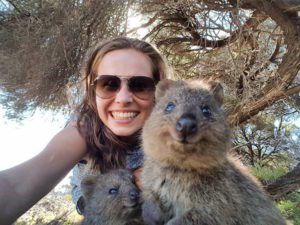 Quokkas on the Rottnest Island in Australia